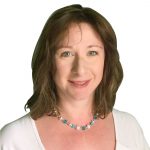 Ed's Letter
For most of my life, my mother's attitude to consumer goods was 'make do and mend' as was her own mother's. For that generation it was second nature rather than something they did to be green.
For my mum, finding nearly new bargains was practically a hobby, particularly when Christmas shopping. Car boot sales were a great source of presents throughout the year and she'd scour the 'for sale' adverts in the local newspapers. Mind you, by December, she'd often have forgotten what she'd bought and where it was hidden.
On Christmas morning itself we weren't allowed to tear the wrapping paper – it would be taken from us and carefully smoothed and folded to be used again next year.
These days, with so many resale websites available online, it should be easier than ever to avoid feeding the consumer economy.
Gifting second-hand is a bit of a challenge though. Will your family turn their nose up at something which isn't brand new and in neat packaging? Will they think you've been mean? Are they only asking for the latest and greatest anyway? Quite possibly, so maybe we need to be setting expectations well before the big day.
OK I'm sounding like the Grinch. But as in the famous film/book, the season is about being with family and friends, not just gifts and fancy decorations. Remembering last year, I'm sure fewer presents and more hugs will feel like a very Happy Christmas! The next issue is out for February, so till then take care!
Rachel
Independent & Proud
Go Local is an independent magazine and directory of truly local services for businesses and services covering Ripponden, Sowerby Bridge, Greetland, Stainland, Outlane, Lindley and Salendine Nook and surrounding areas.
Go Local was launched in 2005. The magazine aims to promote truly local businesses to local people – like yourself!
Local Values
"The magazine is run by me, Rachel, a local resident born and bred in Ripponden with plenty of help from our small team.
Having spent the first 15 years of my career working for large blue chip companies, I now love working locally for myself and getting away from the office politics and the rat race. I enjoy using my 25 years' of experience helping local businesses get the right message and ad for them; service, honesty and value for money are my key principles.
Go Local isn't part of a franchise or larger group, it's an independent business. I love running the business as I'm naturally nosey and get to find out what's going on locally!"