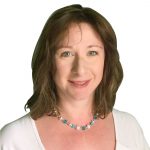 SPRINGING OUT OF LOCKDOWN
As I write this we're moving towards the magical date of April 12th which is stage 1 of the "roadmap" that will, hopefully, lead us out of lockdown for good. I've noticed a complete attitude change on social media and in the conversations we're having with our customers. Just a couple of weeks ago all was doom and gloom as the weather kept us indoors and the pandemic kept us away from our loved ones.
But now the vast majority of people have a renewed spring in their step and are looking forward to getting back to work. Small business owners everywhere have been marking their calendars with various dates and opening up their order books and appointment diaries. I suspect hair salons all over our region will soon be filled with clients desperate for an expert cut after months of trying to DIY! I also hear that travel agents' phones have been ringing off their hooks! (Do phones have hooks these days?!). And at Go Local we've marked this with a fresh new magazine design. Easter is here, if all has gone to plan we can look forward to the shops re-opening as well as outdoor beer gardens and cafés.
If a year in and out of lockdown has left your business feeling in need of some expertise, then we have a wide range of advertisers who can help. From website and IT experts to accounting, and from finance experts to admin assistance. Just take a look through the magazine and you're sure to find the right local specialist. And if you need help with design, advertising and leaflets, then come to us!
Whatever April has in store for you, I hope you and your family and friends get to spend some time together in good health.
Until next time,
Rachel
Independent & Proud
Go Local is an independent magazine and directory of truly local services for businesses and services covering Ripponden, Sowerby Bridge, Greetland, Stainland, Outlane, Lindley and Salendine Nook and surrounding areas.
Go Local was launched in 2005. The magazine aims to promote truly local businesses to local people – like yourself!
Local Values
"The magazine is run by me, Rachel, a local resident born and bred in Ripponden with plenty of help from our small team.
Having spent the first 15 years of my career working for large blue chip companies, I now love working locally for myself and getting away from the office politics and the rat race. I enjoy using my 25 years' of experience helping local businesses get the right message and ad for them; service, honesty and value for money are my key principles.
Go Local isn't part of a franchise or larger group, it's an independent business. I love running the business as I'm naturally nosey and get to find out what's going on locally!"