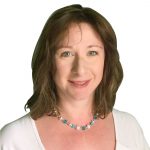 THE FESTIVE SEASON IS ON ITS WAY…
Despite the difficulties this year has brought us, the festive season is a time so many of us look forward to and we are really pleased that some restrictions will be lifted over the Christmas period. But, if we are unable to meet up with all our loved ones, then enjoying a virtual Christmas catch up, or a long phone call filled with love and laughter will mean the world. Home-made gifts dropped on the doorstep will always be well received and can be a very cost-effective way of showing that you care. Meanwhile, we have some great tips on beating the blues and feature both virtual and socially distanced events planned inside this month's mag.
By the time you received this, England's second national lockdown is ending, but most businesses have been better prepared than the first time. Thankfully, our local tradespeople are able to carry on working safely in homes with PPE and social distancing and your support for them is greatly appreciated. Once this lockdown has lifted and we are able to venture out to local retailers, hairdressers, beauty, leisure and takeaways (and pubs and restaurants if our Tier level allows locally), they will all be more than ready to welcome you back!
We send our love and thoughts to you all this Christmas and wish you a very Happy New Year, thank you for your continued support and see you in 2021!
Rachel
Independent & Proud
Go Local is an independent magazine and directory of truly local services for businesses and services covering Ripponden, Sowerby Bridge, Greetland, Stainland, Outlane, Lindley and Salendine Nook and surrounding areas.
Go Local was launched in 2005. The magazine aims to promote truly local businesses to local people – like yourself!
Local Values
"The magazine is run by me, Rachel, a local resident born and bred in Ripponden with plenty of help from our small team.
Having spent the first 15 years of my career working for large blue chip companies, I now love working locally for myself and getting away from the office politics and the rat race. I enjoy using my 25 years' of experience helping local businesses get the right message and ad for them; service, honesty and value for money are my key principles.
Go Local isn't part of a franchise or larger group, it's an independent business. I love running the business as I'm naturally nosey and get to find out what's going on locally!"